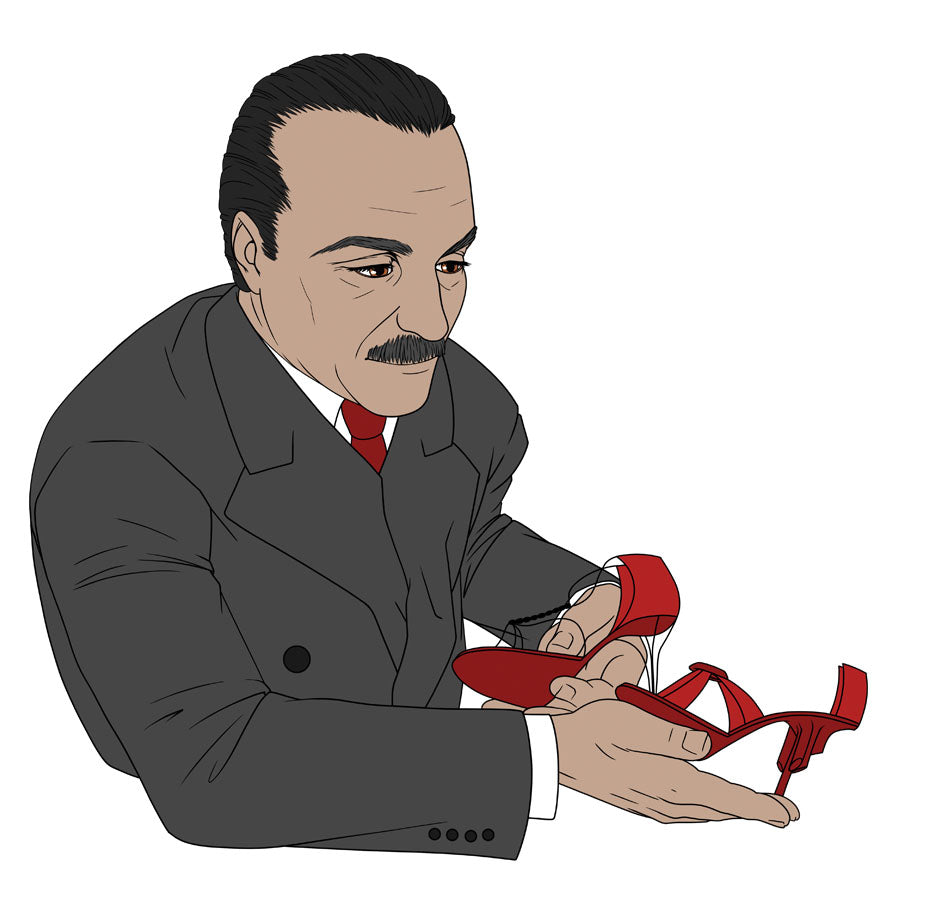 Andre Perugia was an innovator. He had a lifelong contract with I. Miller. When we traveled to the company's Carlisle, Pa., factory, he told the workers what he wanted to make, and they said, "Get him out of here," because his ideas were so far out there. He tried cage heels, no heels, under-slung heels, but they never came out in the mainstream then. Perugia was an original. He made all these designs that designers are still influenced by today. 
More specifically their
dossier
breaking down each design and its influence on current day designs
 All of the photos posted here are credited to The Historialist of Shoes and Shoemakers
Andre Perugia was born in Nice, France in 1893 of Italian decent. He trained in his father's workshop and at the age of 16, and in 1909, he opened a shop in Paris where he sold handmade shoes. He later moved to Rue Faubourg St. Honore, where all the fashion designers had their salons. After World War I, he made shoes for fashion designer Paul Poiret, and it was through his association with the world-famous couturier that his success was assured.
 Among his clients in the 20's were stars of the Folies Bergere and movie actresses who wanted shoes that epitomized the glamour of the stage -Josephine Baker and movie siren Gloria Swanson, silent movie star Pola Negri and Mistinguette – queen of the French vaudeville, whose legendary legs were inspiring artists fantasy and creativity.
Always eager to experiment with new materials, shapes and textures, Perugia continued to create shoes of startling originality throughout a 50 year association with I. Miller and then with Charles Jourdan.
Humor and originality were distinguishing his models. He was known to talk to his shoes, so he earned a reputation as an eccentric as well as a genius. He wrote a book "From Eve to Rita Hayworth" in which he said that the way to unveil a woman's personality was to study her feet.
Perugia made shoes in homage to several distinguished artists. His fish pump, made of overlaid kid with decorative "scales" is a tribute to George Braque, the French cubist artist. In 1950, he made a "homage to Picasso" sandal seems to be floating in the air. He worked for many fashion designers such as Givenchy and Elsa Schiaparelli, Pierre Cardin, and Christian Dior
His designs have inspired countless designers including Marc Jacobs, Nina Ricci, Yves Saint Laurent, Sergio Rossi, Comme des Garçons, Kenzo (the list continues to grow every season)
Shop our Collection of Shoes Inspired by André