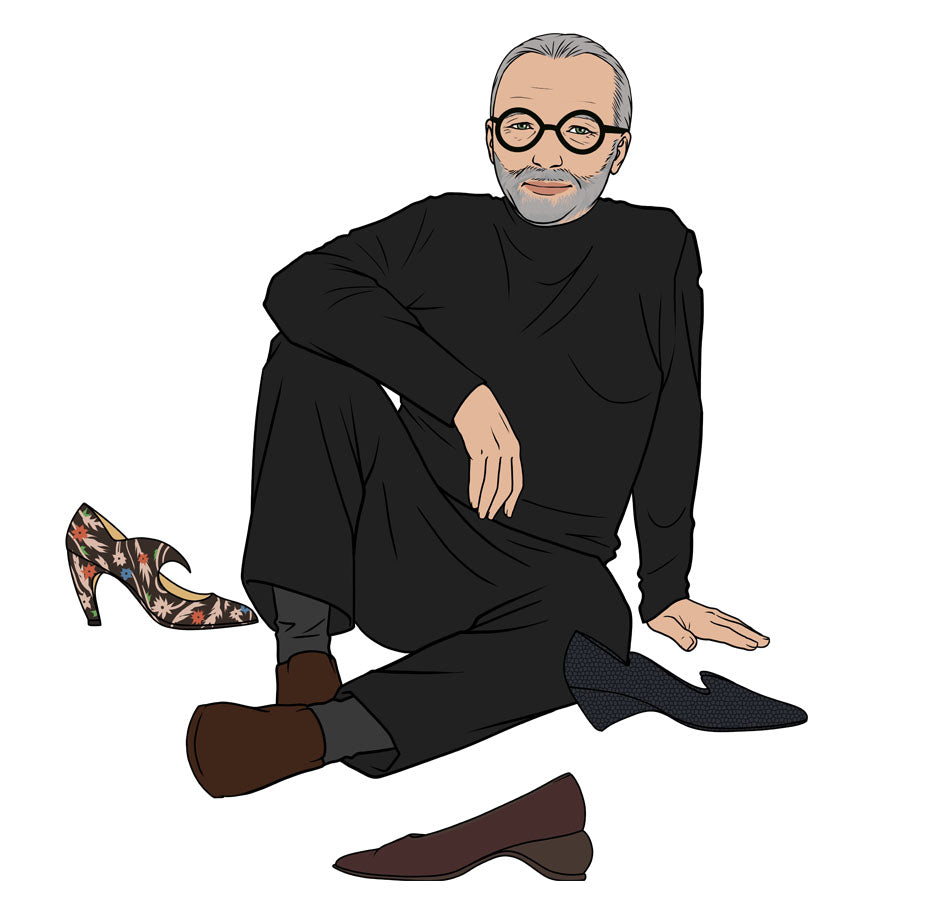 Walter Steiger is one of the most influential designers in the history of modern footwear, while many of his creations revolutionized the shoe industry; many of them are now considered classics. 
Walter Steiger Sr. in Geneva, Switzerland as an exclusive tailored shoe atelier started the company in 1932 but it was his son, Walter Jr. who brought the company international acclaim. Walter Steiger Jr was born in Geneva in February 1942. Walter expressed an avid interest in art and design throughout his childhood. His feverishly creative spirit, lead him to work alongside his father from the age of 15. Walter decided to move to Paris in the early 1960s, at the age of 20. It was then, through the almost fading era of Parisian haute couture, that Walter took his first creative step designing for Bally. Shortly after, Walter moved to London and was struck by the revolutionary fervour of 1968. After designing for Mary Quant, he collaborated with Helmut Newtown, Lady Rendelsham and Michelangelo Antonioni, who chose Steiger shoes for his iconic film "Blow Up". Walter's early experience in Paris and London undoubtedly shaped the philosophy of his work.
Elements of Parisian haute couture had a profound impact on Steiger's design aesthetics, while the aura of swinging London contributed to his continual desire for evolution and novelty. Walter's artistic philosophy consists in researching the most harmonious proportions in a shoe, in particular thanks to his Parisian bespoke workshop. Walter gravitates towards minimalism, cleanliness and lightness in the lines of his creations. 
Walter collaborated with some of the most renowned fashion houses including Ungaro, Nina Ricci, Sonia Rykiel, Maison Chloe, Calvin Klein, Claude Montana, Oscar de la Renta, Kenzo, Azzedine Alaia and Karl Lagerfeld.
The iconic banana heel, which was, was born in the early eighties and was first created for a Chloe fashion show.  At that time the director was Karl Lagerfeld.
While Walter Steiger has collaborated with many artists over the years by far his longest and most fruitful collaboration was with the photographer Helmut Newton. The two first met in London in the 1960s when Newton shot the designer's shoes for a spread in British Vogue, and they developed a lifelong friendship.
Many years later, in 1983, Newton snapped a photograph of a woman's stockinged foot in a Steiger heel, called Walter Steiger, Monte Carlo (shown below). The work is instantly recognizable as one of Newton's more iconic images—last year, it was included in the Helmut Newton retrospective at the Grand Palais in Paris.
Today most of the creative duties are handled by his sons, Giulio and Paul Steiger and both shoemakers were instrumental in the creation of Steiger Bottier, a Parisian made-to-measure studio for men and women that was opened in 2009. 
Check out our collection of Walter Steiger