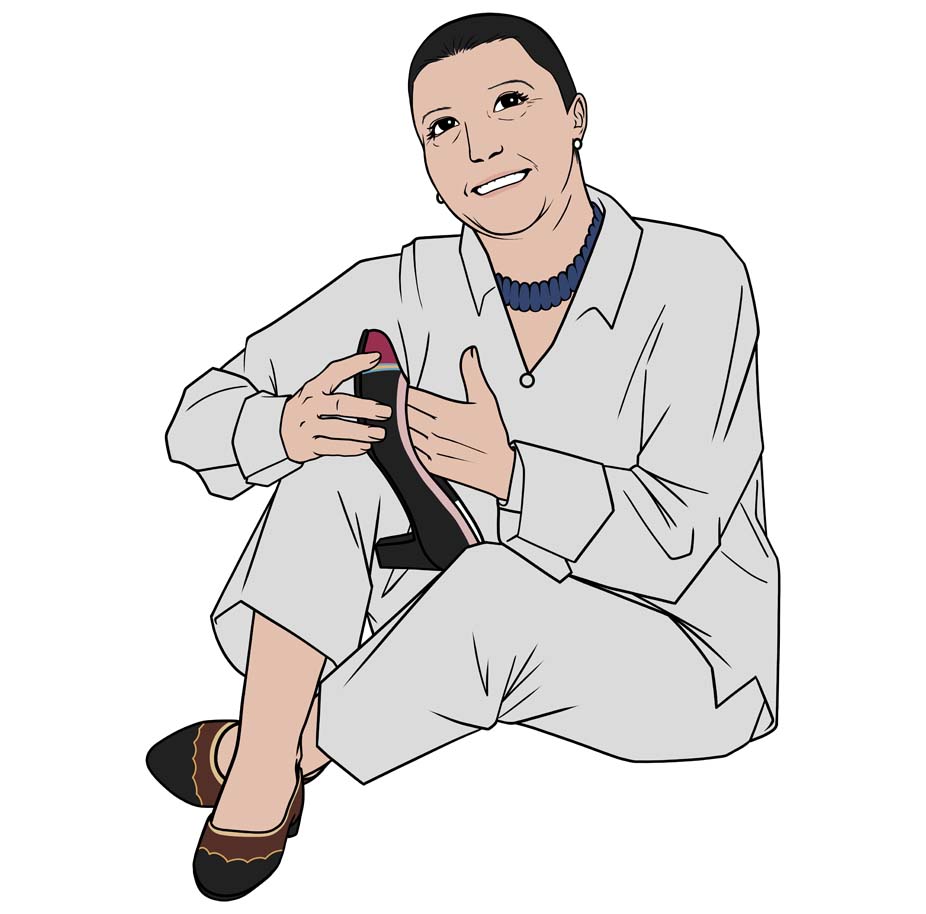 Beth Levine's ingenious and witty designs, experimentation with novel materials, and ability to invent practical solutions have earned her the place of top female shoe designer of the 20th century. 
In the 1930's, Beth moved to Manhattan and found work as a shoe model (her feet were size 4B), then worked her way up from a stylist to head designer for I. Miller.
After working for the Red Cross in World War II, she applied for a job in 1944 designing shoes for another shoe manufacturer. She met Herbert Levine, who was running that company, and married him three months later.
They founded The Herbert Levine shoe label in 1948, with Beth as designer and Herbert as the head of the firm. Beth set out to create feminine and delicate shoe designs and changed the silhouette of American women's shoes by cutting away more and more of the leather to expose more and more of the foot, creating shoes that were both sexy and elegant.
Herbert Levine, Inc. established its first factory on 31 West 31st Street in New York on January 1949. The factory started with a production of 400 pair of shoes a week to reach 200 employees producing 5,000 pair of shoes a week in 1954. In 1975, Herbert Levine, Inc. was still making 900 pair of shoes a day.
Herbert Levine shoes were distributed in numerous boutiques and high-end department stores across the United States and Canada including Neiman Marcus, Saks Fifth Avenue,Joseph and Bonwit Teller. Herbert Levines were also the first American shoes to be carried overseas by retailers such as Galeries Lafayette in Paris and Harrods in London.
In the 1950s, their advertisements were drawn by famous New York illustrator Saul Steinberg and were regularly published in The New Yorker and in Harper's Bazaar.
In addition to 3 First Ladies (Jacqueline Kennedy, Pat Nixon, Lady Bird Johnson, who chose Levine's shoes for their extreme comfort), Beth's clients included Marilyn Monroe, Ava Gardner, Barbra Streisand, Lauren Bacall, Liza Minelli, and Cher.  The boots that Nancy Sinatra wore for her 1966 hit "These Boots are Made for Walkin'" were designed by Beth. (The song increased the demand for fashion boots so much that Saks Fifth Avenue opened a corner in its shoe department called Beth's Bootery.) 
Marilyn Monroe wore Herbert Levine shoes both in her private and public life. Visiting Bement on August 9, 1955, Marilyn wore a pair of Herbert Levine's Spring-o-Lators, immortalized by many pictures, notably the series taken by photojournalist Eve Arnold. 
Her work is collected by many museums around the world including the Costume Institute at the Metropolitan Museum of Art (which owns around 140 pair), the Fashion Institute of Technology in New York, the Bata Shoe Museum in Toronto, and the Kyoto Costume Institute in Japan. Christian Louboutin and Manolo Blahnik are also avid collectors. 
Shop our collection of Herbert Levine