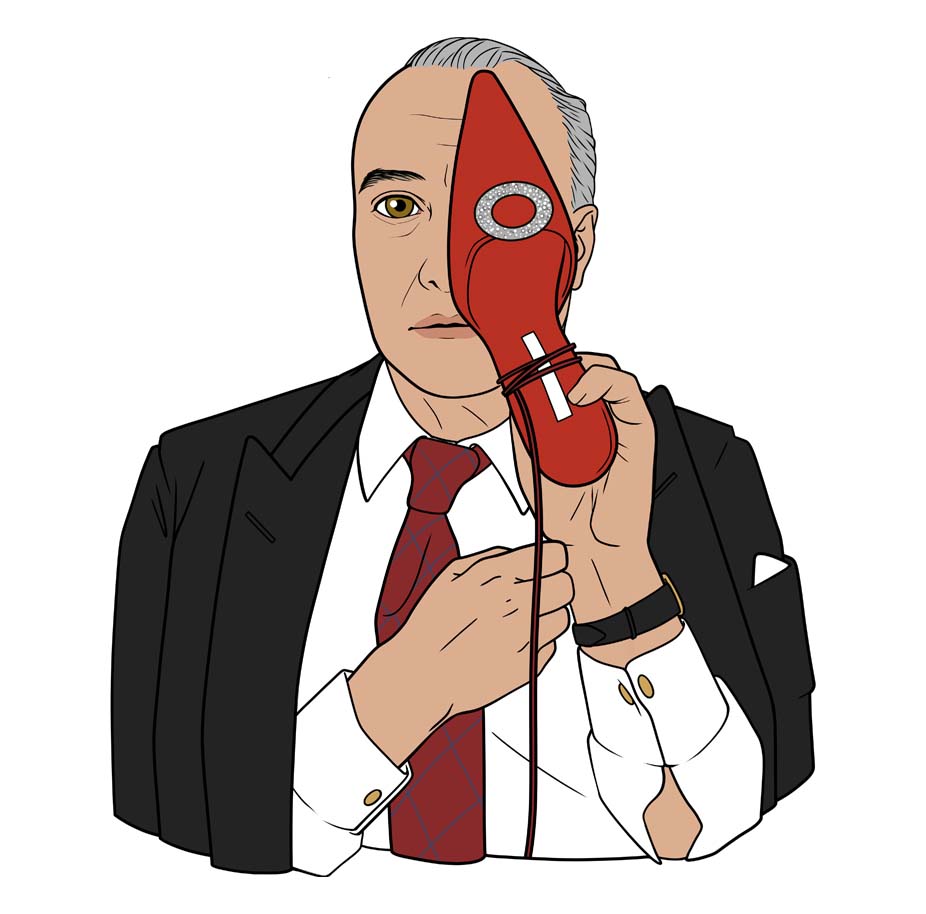 To try to define Manolo Blahnik's designs is to try to define the work of an ever-evolving artist. Each season is a little bit different, but the sophisticated and moderate balance of the heel is one thing he always keeps in check. His designs are often marked by a sleek and slender stiletto—not too high—Blahnik insists that the perfect heel height for women is actually two inches. "It's easy to walk and you still have the movement of the body," he explains. "The rest are cartoon shoes. They're just pretty in the picture but you can't walk."
 Blahnik is notorious for ignoring fashion trends. "Considering that I don't follow trends, and I don't follow fashion too much, it is a miracle that I'm still here and people buy my work. I don't even know what's going on. When I see the page of a magazine, I'm not interested."
Someone recently asked him, "What does your brand stand for?" I don't even know what my brand stands for! 
'My brand stand for someone who… I like shoes, that's all. And I do the kind of shoes that I like. But I cannot define myself.'
1942 - Born to a Czech father and Spanish mother, young Manolo is raised on a banana plantation in the Canary Islands. Manolo is bitten by the design bug when his mother hires the local cobbler to teach her shoemaking. His first creation: paper pumps with tiny ribbons for the local lizards.
1956 - Manolo jets off to Switzerland for boarding school. 
1961 - Planning to study international law, Manolo heads to college…and quickly switches his focus to international literature, languages, and art.
1965 - Post-graduation, Manolo heads to Paris to study art and theater design at l'École des Beaux-Arts and l'École du Louvre.
1969 - Adding another big-deal city to his list, Manolo jets to London, where he writes for L'Uomo Vogue and The Sunday Times, before finding a job at the Chelsea boutique Zapata, where he starts designing men's shoes.
1970 - A trip to New York with his pal Paloma Picasso leads to a meeting with Diana Vreeland, who insists he really dive into accessory design. "Young man, make things, make accessories, make shoes", she famously said
1971 - With the Vreeland stamp of approval, Manolo starts designing shoes for some of the biggest names in London, Ossie Clark. When designer Ossie Clark asked him to design all of the footwear for his fashion show. "Everyone was copying him, so it was a big accolade to work with him, which almost ended my career too," he says. "Simply because I didn't have experience and I put rubber heels with no bit of steel inside—so the heels were a little bit dangerous to walk in." Blahnik goes on to describe the teetering and—probably terrified—models who walked the show in the rubber heels. To his surprise, the perilous shoes were actually a major success, with editors commenting on how "the girls moved so differently."
1973 - Manolo borrowed £2,000  to buy out the Zapata owners and remakes the store as his flagship. (the boutique is on Old Church Street in Chelsea, London, where his store remains to this day.)
1974 - Oh, now Manolo himself is in Vogue—on the cover, in fact, alongside Anjelica Huston.
1977 - Bianca Jagger shows rides up to her birthday party at Studio 54 on a white horse with Manolo Blahniks on her feet.
1979 - Briefly leaving the stiletto behind, Manolo branches out into flats. His first, Gruyere, debuts at his first U.S. store, on Madison Avenue.
1983 - Shoes for men! Back to his roots.
1990 - Somebody's named Accessory Designer of the Year by not one but two organizations: the British Fashion Council and the CFDA.
1994 - Vogue names the four great classics of women's fashion: the Chanel suit, the Hermes Kelly bag, the Armani Jacket, and the Manolo Blahnik pump. Dayum.
1998 - Hey, Sex and the City. Carrie even tries to save a pair of Manolos during a robbery, so. Carrie Bradshaw pleaded with a New York mugger, 'You can take my Fendi baguette, you can take my ring and my watch, but please don't take my Manolo Blahniks.'
2001 - A year of awards (Spain's La Aguja de Oro, an honorary doctorate from the Royal College of Art, and Honorary Royal Designer for London's Royal Society of Arts) ends with a wee bit of controversy. A design for a stiletto with a 3 ½-inch titanium heel is pulled after safety concerns: The shoe could cut through carpet—and possibly another human foot.
2006 - He's gotten plenty of music video, TV, and movie love, but his crazy-special shoes for Sofia Coppola's Marie Antoinette help the film win the Oscar for costume design.
2011 - Know a particularly fabulous toddler? We'd recommend Manolo Blahnik and the Tale of the Elves and the Shoemaker with illustrations by the designer himself.
Shop our collection of Manolo Blahnik