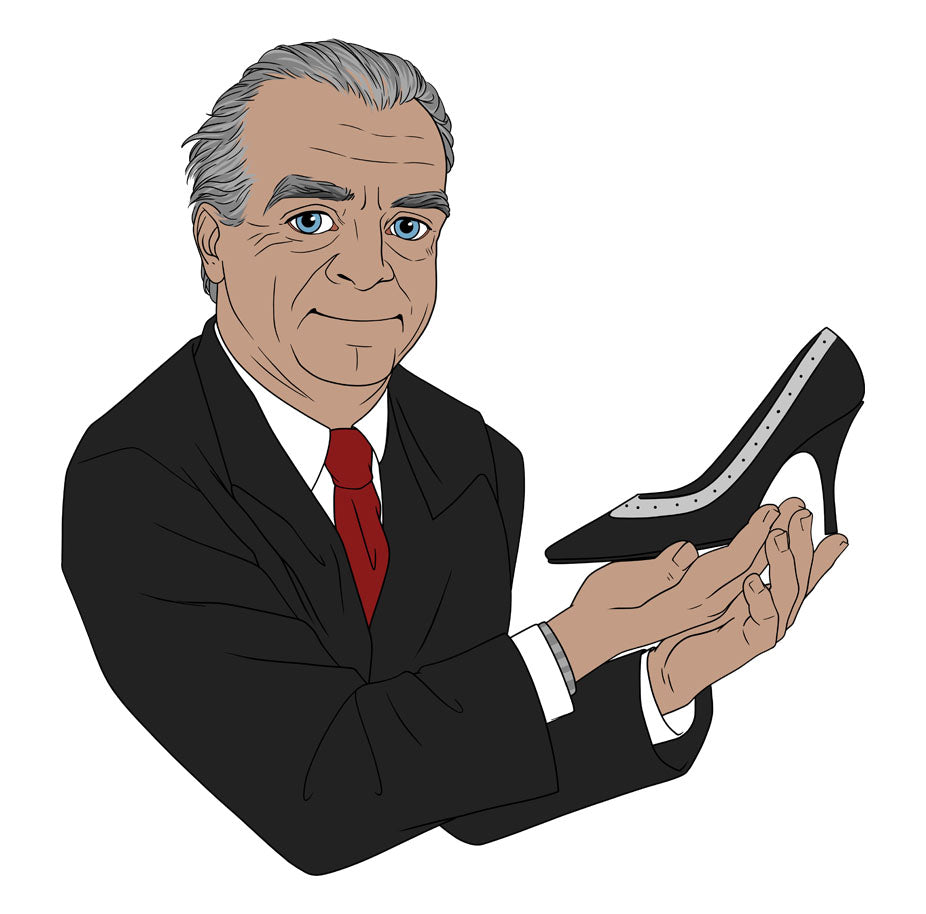 Andrea Pfister is known for his stylish and amusing designs which have earned him a reputation as perhaps the most artistic and humorous of shoe designers. He was superbly witty and creative with the application of an artistic motif to footwear
His sense of colour and texture showed equal genius. His shoes were exquisitely designed and embellished with sequins, multicolored pearls, and lavish embroidery and applique. Caftsmanship always impeccable
Laura Muggiani Sancini, daughter of the founder of the ARSUTORIA school, recalls the genius Andrea Pfister "I understood immediately that he was an outstanding individual, a free spirit that belonged more to the future than to his era. A visionary with a deep passion for colours. Although he did not receive a sketching training his sketches were always very fascinating and exciting thanks to the very special ideas that were expressed. His creations are distinguished by the originality of the lines and colour combinations".
Born in Pesaro, Italy in 1942. As a child, he moved to Switzerland where he was educated. Later, he returned to Florence to study art at the University of Florence. In 1961, he took a course in shoe design at the Ars Sutoria Institute of Footwear Design in Milan and the following year he was awarded first prize in the International Designers Contest in Amsterdam for the shoe named "Comedie". He was quickly establishing himself as a young creator of women's shoes, winning several prizes for beginners in Europe.
In 1963, Andrea moved to Paris to design for the haute couture collections of Lanvin. Two years later he presented the first collection under his own name and by 1967 he was able to open his own shop in Paris.
Andrea went on to collaborate with Anne Klein and the famous Italian tannery Stefania. In 1990 he became the artistic director for Bruno Magli.
Andrea's innovative shoes have adorned the feet of some of the world's most known celebrities, like Elizabeth Taylor, Madonna, Nancy Reagen (who was a collector) Roger Vivier and Donna Karan.
Andrea left a legacy to us all, a story of style and priceless heritage of creativity.
He also left a collection of over 10,000 shoes, designed and created and purchased by himself to Steania S.p.A. Imagine the gems in this collection? We can only dream to visit this collection one day!
•Exhibitions: Mostra d'epoca della calzatura, Vigevano, Italy; Andrea Pfister: Trente ans de création, (traveling exhibition), Musée International de la Chaussure, Romans, France, 1993-94; UBS-Brugg, Switzerland, 1994; Palazzo degli Affari, Milan, 1994-95; Fashion Institute of Technology, New York, and Bata Shoe Museum, Toronto, 1996; Fashion Institute of Design and Merchandising, Los Angeles, 1998; Fashion Institute of Design and Merchandising, San Francisco, 1999. 
•Collections: Metropolitan Museum, New York. 
•Awards: Fashion Footwear Association of New York, Gold Medal, 1988; Designer of the Year, 1990 (for Anne Klein); first prize, shoe designer international competition, Amsterdam. 
Check out our collection of Andrea Pfister